`

Our scanner died earlier this year, meaning we have no way to get regular photos onto our computer, and then, several months ago our digital camera began to act weird, and is still too 'sick' to use. So, we have a few pictures from this summer, and that's about it since the spring. We're hoping to get a new scanner soon - and will then be able to get lots of pictures from the past months on here. Until then, we don't have much recent updates. Sorry. Rachel
Rachel's grandparents, Dick & Lillian Willson, a.k.a. Grandma & Papa were able to visit us for three weeks in May, 2001. It was a wonderful time, for the kids especially who have had to get used to not seeing this set of grandparents several times a week, as they lived only ten minutes from us in CA.
Rachel's dear old friend from High School years, Denise, visited us in CA for a special and very short three days in October, 2000.
Some special shots from both these special events can be seen below. You can click on the small picture to open it up bigger.

On the 'Children's Train' through the hills of Budapest, Anna on Grandma's lap next to Papa.

At Opuszta Szer, a lovely national park outside of Szeged, with Grandma and Papa.

Papa with Anna at the Budapest zoo.

Denise with all three kids.

Denise and Rachel on the beach at Santa Monica Pier, October 2000.
Monster Truck Show
August 2001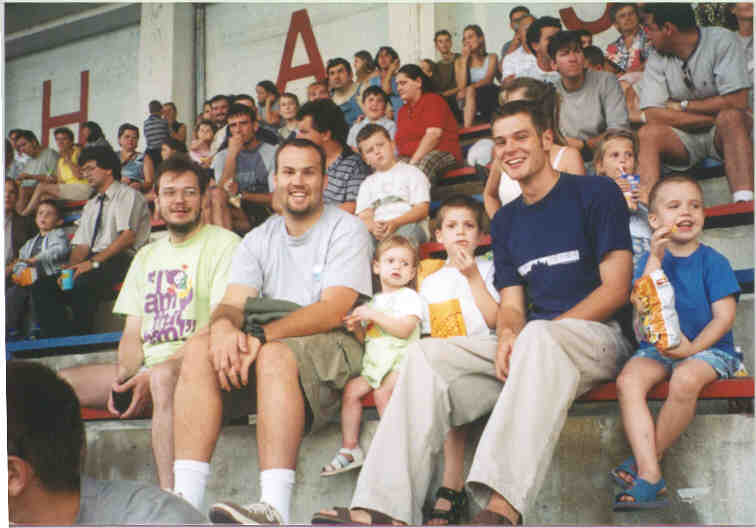 The last weekend in August a Monster Truck and Car Stunt Show came to town. And just days earlier we had welcomed James back to Szeged. Here's Norbi, Kyle, Sarah, Siah, James and Joshi in the bleachers. Don't know who was more excited - the 'big boys' or Siah and Joshi!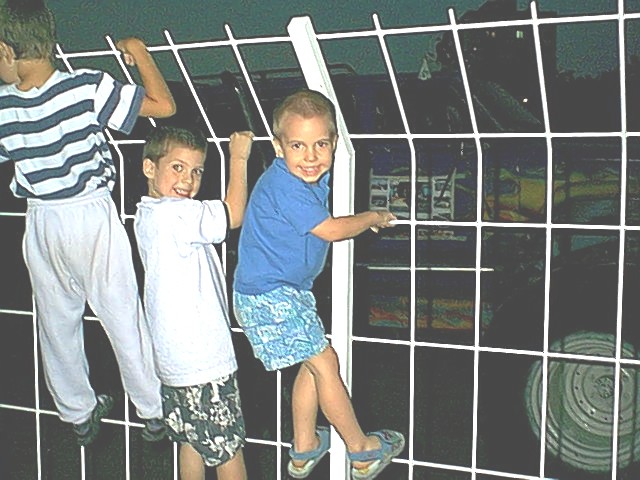 The boys admiring one of the two monster trucks after the show (one was a Ford, the other a Chevy), they are up a ways on the fence to give you an idea that these were big trucks!
In honor of Mother's Day, both boys' classes held little presentations in which there were many recitals and little folk dances, ending with the children all giving their mother's flowers. Our boys had hardly been attending the preschools for maybe a month at this time last year, and so hadn't really been able to participate much in last year's presentation. It was so amazing this year to see both boys recite little poems in Hungarian, and so sweet to watch them in the dances.
Click on the small pictures below to make them bigger and easier to see.

Joshi's class going around in a big circle while they sang. That's Joshi in the bright shirt next to the girl in pink.
Joshi in the middle, reciting a three-part poem.

Siah's class doing one of their song and dances. Siah is in the middle, straight back, brownish shirt.

Siah began a long story poem, and recited so loud and clear.
Bedroom Improvements in October 2001
Norbi was bitten by the woodworking bug, and made Josiah the 'bed desk' (for lack of a better name!) behind the boys. It rests on the rails around Siah's bed. Siah is SO excited about it - he got to go to the hardware store and help when Norbi bought the parts. And he now has an awesome little place to do all the crafts and drawing he loves without little siblings disturbing him (Joshi can only go up by invitation, and Anna only if we are there to watch her).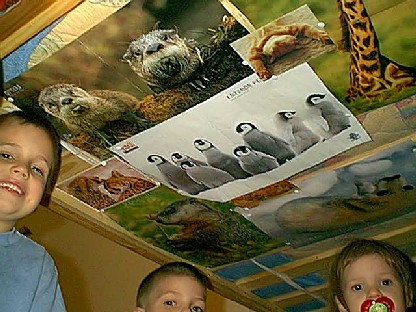 Joshi wanted something special too, so Rachel did an animal collage above his bed - he's on the bottom bunk. We're going to keep adding to it - until all you see are animals!